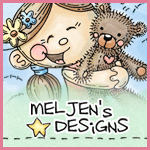 Today
CSAYL's
Design Team will be sharing cards with you created with
Meljen's Digi Designs
. I love penguins and chose
Penguin's Skating Buddy
to create with. They have so many lovely designs, it was hard to pick just one! I am going to have to go shopping later for more images. Ü
An added challenge for the DT is to create a card with our favorite color combo. That is hard for me, because I have so many that it just depends on the mood I am in. Ü I am loving aqua and olive lately (even using it for Easter), so I decided it would be a perfect color combo for this card as well.
I colored the image with markers and then looked for paper in my stash to match. I was excited to find this plaid & green by Basic Grey, glittered snowflake paper from a paper pad I had gotten 1/2 price at Hobby Lobby as well as the solid blue. I added a sheer blue ribbon and some
Sugar Sparkly Fluff
by Our Craft Lounge for the ear muffs.
Come and play along with us and you could win 4 non colored images of your choice!