This week we have unique challenge...create a project using Tombow's Correction Tape. The DT will be showing you "out of the box" ways to use correction tape. It is also our ABC week, so we had a double challenge...correction tape + no cards.
This was probably the toughest challenge I've had to do, but did come up with a unique way to use it. I have lots of extra goodies left over from our blog hop with Canvas Corp last week and decided to play with some tags they sent.
I just applied the tape in a chevron design using two different widths of correction tape;
MONO Correction Tape Pen-Style, Fine Line
and
NEW MONO Grip Correction Tape, Top Action
.


I sprayed the red tag with some glimmer mist and added a silk flower, while leaving the other with a natural look.

I added an eyelet to both and tied on ribbon. I think these would be fun to add your information on the back and use as luggage tags.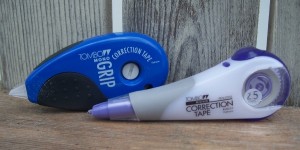 I hope this gave you another idea of what you can do with Tombow's correction tapes.